Shopping
at Ben Thanh Market
Inside Cho Ben Thanh are many souvenirs, T-Shirts and other garments as well as traditional handicrafts including Lacquerware and embroidery. Different textiles in famous Vietnamese and Asian styles as well as western styles. Fabric is also available to buy by the meter to take home.. From small trinkets to large wall hangings there is a suitable souvenir for every visitor here, and while in the market pick up some fresh fruit to refresh yourself. Bought too many things to fit in your suitcase? Don't worry as Ben Thanh Market has sellers of high quality new cheap suitcases to fit your needs as well!
Most vendors accept cash and there is an ATM machine inside the market and ones near the entrance to allow you to draw more local currency if you need to. no smoking is allowed in the market building.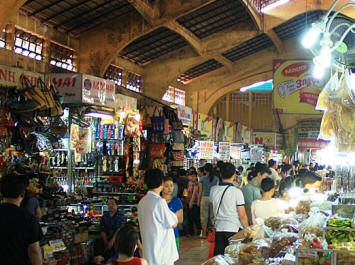 Expect to find:
Fruits and vegetables
Modern sports clothing
Ladies undergarments
Ladies blouses, dress and pants
Jeans for all people
Children's' clothing
Traditional Vietnamese clothing
Fabrics and cloths of all types
Embroidery for garments and framed for art
Dried fruits and nuts
Tea and Coffee both packaged and loose
Don't miss the street food vendors on the pavements across the road from the market building itself, here in tradiditonal vietnamese style bowls of steaming hot noodles are eaten by local people as snacks or lunch.
Ben Thanh Market - The Definitive Guide - Getting Here - Opening Times - Attractions - Staying