Ho Chi Minh City
Attractions
Statue of Tran Nguyen Han - Directly outside the front entrance of the market, in the roundabout or traffic circle dedicated to Quach Thi Trang is a statute of Tran Nguyen Han mounted on a horse on a stone arch. Tran Nguyen Han is a general in the Later Lê Dynasty (1428-1527) known for helping Emperor Lê Lợi defeat the Ming army. There is a nice green and well tended garden around the statue, but it is rarely visited perhaps because of the constant traffic.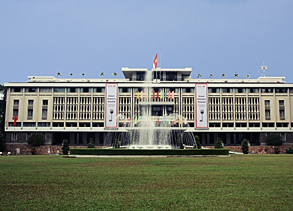 Reunification Palace - Located a few blocks north of the market this important building previously called as Independence Palace marks the site of the former Royal Palace Norodom. Inaugurated on 31 October 1966 by the chairman of the National Leadership Committee it is one of the most important places to visit in the city as it explains the American War and how it ended with the fall of Saigon when the gates of this Palace were breached by Viet Cong tanks. Open every week day from Monday through Friday at 7:30am, until 4:30, but closed during the mid day lunch period from 11am until 1pm.
War Remnants Museum - Just 10 minutes walk from the Market this detailed museum shows the materials left over from the American war both in actual equipment and in photographs and descriptions. Open every day including holidays from 7:30 in the morning. Free entry for children under 6 years of age.
Central Post Office - Constructed during the French Colonial period this impressive structure, it has a neoclassical architectural style. It was designed and constructed by the famous architect Gustave Eiffel in harmony with the surrounding area.
Vĩnh Nghiêm Pagoda - One of the main Chinese temples in the city this is a Vietnamese style Chinese temple, but built using modern materials such as concrete. It boasts a 40 meter high tower, one of the highest of any Vietnam temple.
More Information: If you want to know more about Ho Chi Minh City (aka Saigon), you may find more in ho-chi-minh-city.asia.

Ben Thanh Market - The Definitive Guide - Getting Here - Opening Times - Attractions - Staying