How to get to
Ben Thanh Market
Being so centrally located, as the Central Market of the District 1 of the city, it is always easy to reach Ben Thanh Market. Exactly which route is best may depend on your original starting place of course. Here are some of the common ones.
From International Airport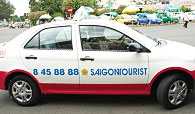 The Tan Son Nhat International Airport is located within the city limits only 7km from the market, so reach it is easily done via taxi. At the airport there are many taxi companies offering their services as well as minibus and private car hires. Please be aware that in Vietnam the pricing of taxi service is determined by each individual company, so choose your taxi company wisely for the best results. Talk to the taxi handler for the company that you choose, such as Vinasun or Mailinh, their staff are uniformed and once you ask them then you are being queued for a ride.
A trip from the airport to the market should be done on the meter, not for a fixed price, and depending on the company the total price will be about 100,000 or 160,000 VND. There is no need to bargin or negotiate, simply insist on using the meter and this will get you a good price.
There are many touts, private taxi hire, and other people in the airport who will try to negotiate some offer for you. It is best to ignore all these and only talk to the uniformed representatives of the taxi company themselves.
Outside of rush hour the trip should take only about 15 minutes, though during busy times it can be double that or even more.
An alternative is to take the public bus, in Vietnam the public buses are safe and comfortable and are also quite fast as the traffic knows that they should have priority. Also as Ben Thanh market is a major bus terminus many busses go here. From the airport there are some choices but the most convenient would be bus # 152.
Catch the bus # 152 outside the airport building . Catch the white and blue bus "Saigon Bus" with the number 152 painted in red numbers on the side of the bus. When you rech the destination all the passengers will alight and you will be in the bus terminal. Across from you is the large traffic circle with the statue of a horseman Tran Nguyen Han in the center, and beyond that the Ben Than Market clock tower with its red tile roof is visible.
Ben Thanh Market - The Definitive Guide - Getting Here - Opening Times - Attractions - Staying