Hotels in
Ho Chi Minh City
There are a few hotels right next to the market, but there are many more options throughout the city.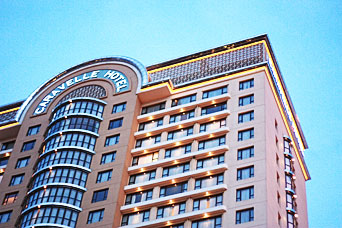 Luxury
Caravelle Hotel - Located near the river to the west of the Ben Thanh Market this modern high rise purpose built hotel offers 5 star luxury. Originally in 1959, the Caravelle Hotel features combines French and Vietnamese architecture, an outdoor pool and non-smoking rooms. Overlooking the famous Opera House in Ho Chi Minh City on one side while on the other side featuring views of the Siagon River. Fully equipped with all modern conveniences including air-conditioning, wide screen televisions, round the clock hour room service and free wireless networking this is period luxury for the modern traveler.
Lotte Legend - Overlooking the river this luxury tower hotel is within walking distance of major modern shopping malls including Saigon Centre and Diamond Plaza.
Discount
Yellow House Saigon - harking back to the original name of the city this discount hotel in a small name not far from Ben Thanh Market offers excellent value for money.
Long stay accommodation
Somerset - This resort style serviced apartments is run by a Singaporean chain. With 165 rooms or apartments it features outdoor swimming pools and elegant contemporary interior décor. each apartment features a kitchen as well as working desk. A shared sports facilities such as fitness centre and tennis course are also available as are on site convenience store.
Ben Thanh Market - The Definitive Guide - Getting Here - Opening Times - Attractions - Staying