Foods
at Ben Thanh Market
All people love their food, and the Vietnamese are no different! Try out some of the unique fresh and cooked foods while you are at Ben Thanh Market.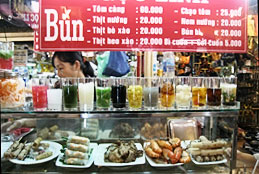 Fresh produce is available in many of the stores in the market, from Durian, Dragon Fruit and Mangos to Cucumbers you will find the familiar and the exotic all available at very reasonable prices as of course these shops cater mostly to local residents. However we are pleased to provide fresh foods also to our tourist visitors who may enjoy some fruit for a picnic within the city!
Also stalls sell dry foods including both modern snacks and candy as well as traditional dried fruits and nuts. Look out for the range of Teas and Coffees which are available and which Vietnam has a long and special tradition of serving. Many of these are suitable as a souvenir to return to your country as a reminder of your experience in Vietnam. As well as prepackaged coffees and teas there are also specialty coffees being sold loose and these can be purchased by weight, the prices given are normally for 100 grams.
Towards the back of the market you will come to the hot cooked food stalls, though these also include chilled drinks and fruits, they serve mainly hot foods either at the counter or as a take-away. For many vendors and stall holders within the market this is where they get their lunch during the busy working day, so you may see trays of take away being delivered in the narrow passages and shop holders busily finishing their bowls of Bánh canh, or the specialty of Vietnam such as Phở.
Many dishes are served with hot spicy sauces, or with sliced red Chilies either pickled or fresh. Ask for them on the side if you do not like spicy food.
Southern style food is mostly served but there are also Central and Northern dishes. Noodles in soup are popular all over the county and with dishes like Bún bò Huế or literally Beef Noodles from the city of Huế, it is the special soup/stocks and condiments that really make it a unique experience.
Eaten normally with chopsticks and a spoon you can of course ask for a fork though not all stalls have them.
Desserts are very popular as well and include a variety of sweet dumplings in chilled soups with green, black and mung beans. Coconut shreds and milk make for refreshing desserts.
Banana and coconut is a particular favorite combination. Sprinkled with peanuts or toasted sugar it is a sweet yet refreshing snack.
While both hot and cold soups can be eaten at the stalls you can also take away the cold soups which are packed into transparent plastic bags which you can pour out into a bowl at your convenience.
Many of the food stall holders have been operating the same stall in Ben Thanh Market for many years, or even since their family or parents ran the stores before them.
Canned and bottled drinks of international brands are readily available.
Names and pricing of items available are written in English characters so it is easy to order, though pointing at a dish you like the look of is the best way to order.
Combine eating and shopping on your visit!
Ben Thanh Market - The Definitive Guide - Getting Here - Opening Times - Attractions - Staying