Hotels near
Ben Thanh Market
Being in the center of the city there are many hotels very close by the Market. As this is a central area for visiting the rest of the city why not consider staying beside the market itself?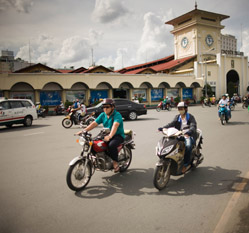 A & EM at - Phan Boi Chau Just across the Phan Boi Chau street from the market itself this latest in a chain of small boutique hotels is miniturized luxury at its best. With the Night market open on its doorstep every night it could not be better placed. http://www.a-emhotels.com/phanboichau/
Ngan Ha Hotel - Located right behind the market on Le Thanh Ton road this 42 room classic hotel offers an outside terrace, balconies, and modern rooms with all the features that a traveler will require. All rooms are well-equipped with first class amenities: IDD telephone, satellite TV, internet ADSL, WiFi, mini bar, coffee bar, pick-up to the airport. Enjoy the special attention provided by the team of guest service staff who are always ready to assist you 24/24h a day.

Little Saigon Boutique Hotel - Located in a low rise contemporary styled building. It is right by the market Located right in the heart of vibrant Saigon – Le Loi Boulevard, next to the TAKA shopping plaza and within easy walking distance to the key attractions of Saigon. The hotel features just 18 rooms, each elegantly designed with modern facilities and amenities.
Lavender Hotel - Also on Le Thanh Ton this 3 star boutique hotel offers business and recreational visitors alike a perfect affordable place to stay. With Business Centre and Fitness Centre available as well as custom in house foot massage service it offers something for everyone.
Beyond the market area there are many other hotels in Ho Chi Minh City, see some more here.
Ben Thanh Market - The Definitive Guide - Getting Here - Opening Times - Attractions - Staying